Winter Season is in Full Swing!
From approximately Jan 5 to tomorrow Wed, Jan 22, Aspen "catches up" to re-energize after the highly successful and very crowded 2-3 weeks over the Christmas/New Year vacation. And, we have had incredible snowfall with near perfect conditions. It is a great time to visit! 
When I read the Aspen Times early last Friday morning about the new inductees in the Aspen Hall of Fame, two of the honorees were Mountain Rescue volunteers who will run whatever time of day or nite when they are called to try and save skiiers caught in avalanches, hikers hanging off cliffs, or some backcountry accident that "just happens", including downed aircraft. Of course, being a long time local, I knew these brave men being honored.
It brought back a flood of memories for me, especially being a beautiful snowy day. When the sirens went off on December 28, 1974, I wondered whose luck was up now. A few hours later I knew it was my own father. I was a young mother with two small infant sons. It was a huge snow year with many avalanche warnings. My dad put skins on the bottom of his skiis every day after riding 3 chair lifts to get to the top of Aspen Mountain. He loved the physical challenge of hiking higher and skiing out of bounds. And, even though he had his brand new "beacon locator" on in the slim chance of an emergency, he and his ski buddy were not taught about carrying shovels to dig out. 
 So, I called the man I knew the best and thanked him again - almost exactly 46 years later. He said they had joined just a few years after that, but all the Mountain Rescue guys talked about that story. 
THANKS TO ALL THE FIRST RESPONDERS, NO MATTER WHAT THE EMERGENCY. YOU allow us- especially in this town to challenge nature every day.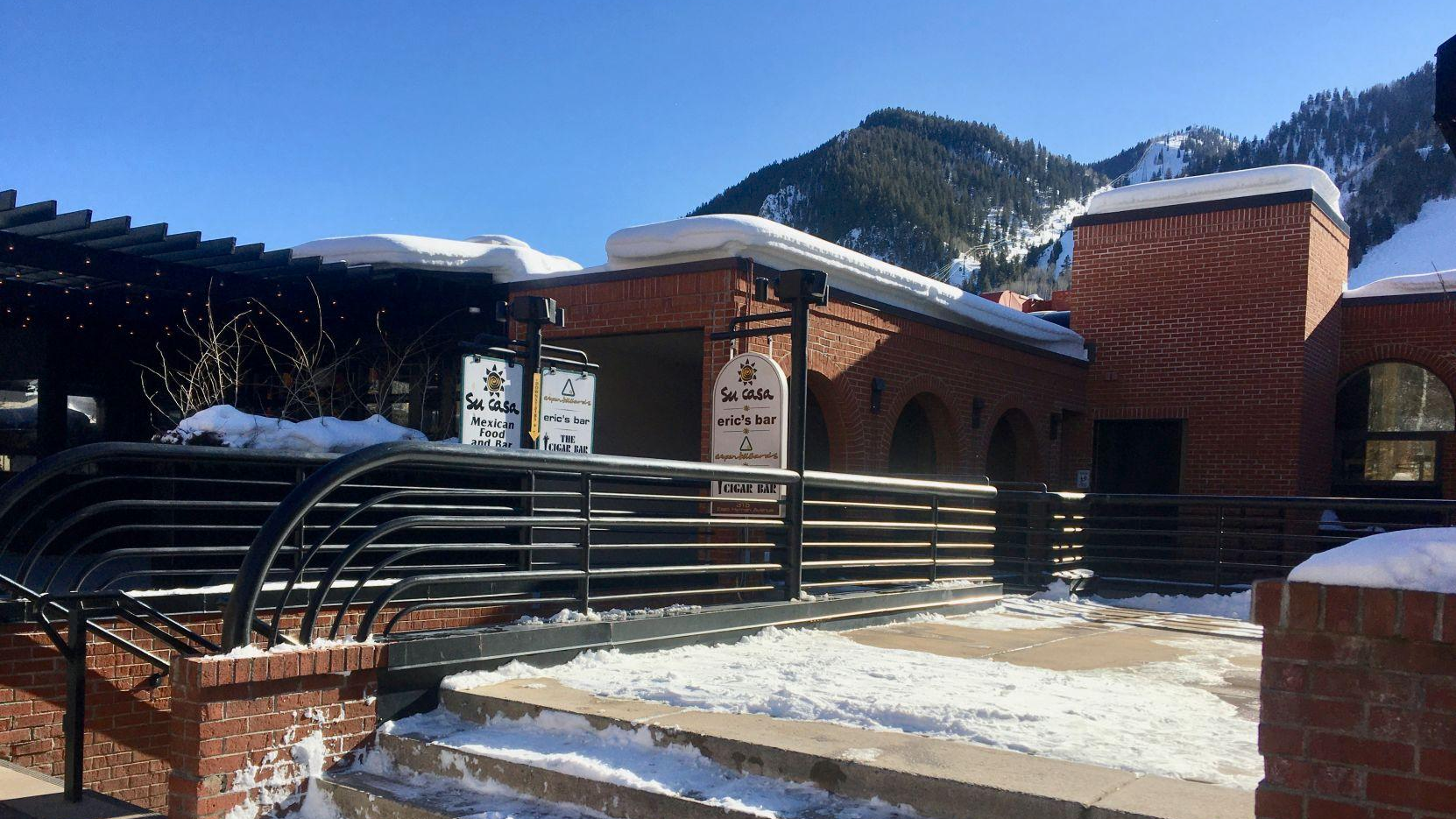 Excited to announce I sold the Hyman Ave commercial building (home to Eric's Bar, Cigar Bar, and Su Casa Restaurant) to my client Mark Hunt. This is l
ocated on the same block where construction is underway on his boutique hotel. Big plans ahead!
CLICK HERE
MAIN STREET BAKERY UPDATE
Aspen's Historic Preservation Commission members this week voted unanimously to approve a land-use plan for the high-profile property owned by developer Mark Hunt. CLICK HERE

 Three new restaurants on the corner of Monarch and Hopkins open!
Bear Den Bakery and Café (formerly The Cottage) will open in a few weeks. 
The new owners, Alai Joonis and Bridger Smith, completely remodeled this space and a
re creating a fresh bakery open from 6:30am to Happy Hour with seating for 27.
Duemani: (formerly Rustique Bistro)

I ate here twice last week. The food is outstanding and the service is superb. The restaurant is completely remodeled and
 Luigi and Gretchen of Acqualina are the extremely c
apable owners.
Joonas:  (formerly the Cooking School below Rustique Bistro) will be a spacious wine and tapas bar 
hopefully opening in March.
SO LET'S TALK REAL ESTATE!
There was a closing -finally- on a penthouse about 2 blocks from the gondola that has been on the market a few years. It is approximately 1900 sf, furnished, and closed for $9,250,000 which translates to $4,868,40/sf. Some buyer must have decided that to be in the middle of downtown Aspen, it was worth it. Of course, there is a considerable amount of downtown product sitting on the market for more than a year—at asking prices higher than most past sales. Sellers obviously think this is a very limited market, so why not test it. I believe now is the time to start writing offers! And, if we do not get responses, then we just move about .5-1 mile east or west of town to save up to a few thousand dollars per square foot! 
We can do rental proformas for you and Aspen Real Estate is considered a quality investment.
Feel free to call me with question about specific blocks or neighborhoods. We are here to help you sell or buy!!!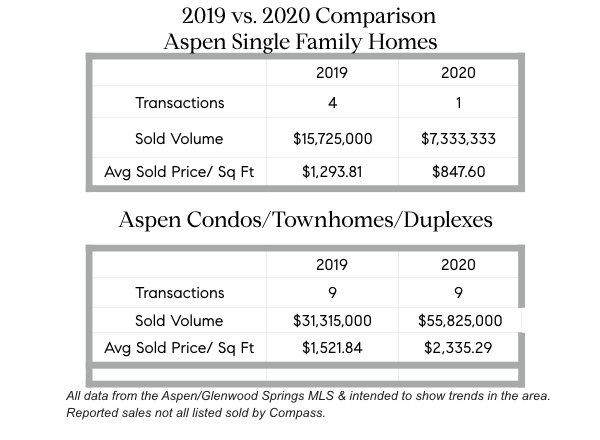 916 Waters Ave Condo | Aspen Core   

$1,050,000 | $1,322.42/SF


2 Bed | 2 Bath | 794 SF 




Great location just 2.5 blocks to the gondola. Low HOA dues and great rental history. CLICK HERE

510 Oregon Trail | Maroon Creek Club

$5,995,000 | $1,209.64/SF


3 Bed | 3.5 Bath | 4,956 SF

This contemporary townhome, remodeled in 2017, is just eight minutes from the heart of Aspen, perfect for entertaining with s

ki in/ski out access from Tiehack Mtn.

CLICK HERE
1560 Silver King Drive | West Aspen


$6,650,000 | $1,276.64/SF

4 Bed | 5.5 Bath | 5,209 SF




Stunning contemporary duplex is perched above the Aspen Golf Course revealing expansive mountain views of Pyramid Peak and all 4 ski mtns. CLICK HERE

2670 McLain Flats Rd | West Aspen

$12,950,000 | $1,300.72SF


6 Bed | 6.5 Bath | 9,956 SF




Extraordinary estate on six acres with stunning views equipped with a gourmet kitchen, two bars, seven fireplaces, a wine room, family room, hot tub and more. CLICK HERE

124 Coldstream Lane | East Owl Creek

6 Bed | 6 Bath | 3.5 Half Bath | 14,904 SF

This gorgeous Aspen property is located in the ultra private and exclusive East Owl Creek neighborhood. CLICK HERE

Buttermilk Mountain


X Games is the world's best action sports, music and festival experience — on snow! All sport competitions are free and open to the public along with musical performances by world-renowned artists.
AspenSnowmass JasCafe | Jan. 31-Feb. 1

MARTIN TAYLOR & LAURENCE JUBER 




World-renowned virtuosos and multi-award winning guitarists perform a mind & ear bending blend of jazz, pop and more. 

CLICK HERE
Crystal Palace Review

 | Jan. 31-Feb. 1

Wheeler Opera House


The wildly talented cast of the iconic Crystal Palace is back at it again. Lampooning the headlines and creating laughter out of the crazy!  

CLICK HERE
Ullr Nights at Elk Camp | Snowmass Mtn

 

Jan 31, | Feb. 14, 21, 28 | 

March 13, 20, 27

Enjoy an evening of outdoor activities such as tubing, Alpine Coaster & snowbiking. Dance to live music and enjoy an a la carte culinary celebration. CLICK HERE
Do you love powder? 
Of course you do.  Luxury snowcats take you to prime untracked glades and runs on the backside of Aspen Mountain. Fresh tracks guaranteed and gourmet lunch is included. 
CLICK HERE
© Compass 2020 ¦ All Rights Reserved by Compass ¦ Made in NYC
Compass is a licensed real estate broker and abides by Equal Housing Opportunity laws. All material presented herein is intended for informational purposes only. Information is compiled from sources deemed reliable but is subject to errors, omissions, changes in price, condition, sale, or withdrawal without notice. No statement is made as to accuracy of any description. All measurements and square footages are approximate. This is not intended to solicit property already listed. Nothing herein shall be construed as legal, accounting or other professional advice outside the realm of real estate brokerage.